Commercial Document Authentication for use in China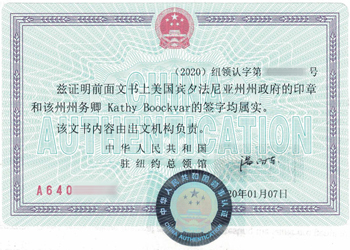 Documents originated in US must be legalized by the Chinese Embassy or Chinese consulate in order to be used in China. This process is called document authentication. China is not a member of Hague Convention, therefore Apostille is usually not acceptable. The documents must first be authenticated by the State Authentication Office (exception to this rule: Apostilled document from CA, CO, WA, MN and OR is acceptable), then further authenticated by the Chinese Embassy or Chinese Consulate accordingly.
State authentication is sometimes referred to as a "stamp" or a "gold seal," it is actually a sealed certificate that confirms the authority of a public official, such as a notary public, town clerk, state official or Judge, to act in a particular capacity in connection with a document that he or she has signed. The authentication certificate will verify that the named individual and their position are a matter of record in the Secretary of the State's Office. The certificate will only be prepared if the official has in fact executed the document properly and can only be attached to a signed original or a sealed certified copy from a public record keeper, such as a Town Clerk.
Here is the outline of three major steps for document authentication for China
1) Notary: For non-government documents such as affidavit, diploma, passport copy, power of attorney, bank letter, etc., a notary public must notarize the document firs. If the document is issued by the government such as: good standing certificates, documents filed with the Division of Corporations, etc, you will need to obtain a certified copy (not a notarized copy) from the issuing agency.
2) State Authentication: The State Authentication Office must certify the notary seal or the certified copy by adding a statement page with big state seal. Some states require county clerk to certify the notary seal first. Federal document and document issued in DC jurisdiction* will require further authentication from the US Department of State. Click here for state authentication sample.
3) Consulate Authentication: The Chinese Embassy or Consulate will verify signature and seal from the Secretary of State Office. Once verified, the Chinese Embassy or Consulate official will add the authentication seal and signature to the document and it will be authorized for use in China.
Type of documents can be authenticated include, but are not limited to:
Certificate of good standing
Financial statement, bank letter
Certificate of free sale
Power of attorney for business purpose
Copies of documents, passport, invoice, etc
VisaRite is specialized in assisting you to obtain document authentication from the Chinese Consulate and Embassy easily and quickly. In order for us to help you, you will need to have the documents authenticated by the relevant State Authentication Office (or US Department of State) first. US Department of State authentication is mandatory if document is originated in some states (see step 2 for details). Please follow the instruction below closely and complete all the steps listed before your mail your application over to us.
STEP 1 - Notarized by Local Notary Public
Non-government issued document should first be notarized by a Notary Public. The document should be signed in presence of the notary. The notary should add an acknowledge statement such as "Signed and sworn (or affirm) to before me this__________day of_______________, 20___." and complete with notary seal and signature.
State issued document such as vital record, certificate of corporation, etc doesn't need to be notarized. You should obtain a certified copy and skip step 1.
Chinese Consulate in San Francisco (covering Alaska, Northern California, Nevada, Oregon, Washington) requires all attached pages to be stamped with the same notary seal, if it is a multiple paged document.
Document notarized in AL, GA, HI, KY, MD, NY and TN must be certified by the county before state authentication. County certification can be obtained from a circuit clerk, circuit court, county clerk, probate judge or superior court clerk.
How to obtain a notarize copy of your document such as passport ?
STEP 2 - Authenticated by the Secretary of State
Every document should be further authenticated separately by the Secretary of State by adding a cover statement with a designated big seal, signature and wording recognized by Chinese Consulate.
Once authenticated, the staple(s) must not be removed, or it will invalidate the document.
When you submit the document to secretary of your state, please indicate the document will be used in China. The document should be authenticated. Apostille is not recognized in China. It should be Authentication instead of Apostille.
Federal document and document issued in DC jurisdiction must be further authenticated by the US Department of State (Federal level) after authentication by your state's secretary office (state level). States under DC jurisdiction include Delaware, Idaho, Kentucky, Maryland, Montana, Nebraska, North Carolina, North Dakota, South Carolina, South Dakota, Tennessee, Utah, Virginia, West Virginia, Wyoming, Washington DC, Alabama, Arkansas, Florida, Georgia, Louisiana, Mississippi, Oklahoma, Texas, Puerto Rico, US Virgin Island. We can help with US Department of State authentication service for a fee, please email us for details if needed.
Click here for state level certification sample
Click here for state authentication office

STEP 3 - Authentication Application Form (G1)
Please fill out "Authentication Application Form (G1)" on your computer, print a hard copy and sign in section 8 and below.
FAQs:
Q: What should I fill in "Supporting documents and Copies of Legalization" section?
A: It simply means how many set of documents you need for authentication. If you only have 1 document, simply type in "1 ORIGINAL AND 1 PHOTOCOPY". You will need to pay for each document that needs authentication.

Click here to find out how to fill out the Authentication Application Form correctly.
STEP 4 - Photocopy of Applicant's ID
Notarized photocopy of applicant's passport. Please make a clear photocopy of your passport. Do not shrink or enlarge the size. Use only letter size paper. Do not cut to smaller size.
Non-US passport holder needs to provide copy of legal US status such as US Permanent Residence Card copy or US student or residence visa copy.
In case of business authentication, Notarized photocopy of the business legal person's passport and copy of business card are required.
STEP 5 - Photocopy of the Certificate of Good Standing
If the document to be authenticated is a business document, a photocopy of recently issued "Certificate of Good Standing" is needed as a proof that company is in good standing.
STEP 6 - Letter of Authorization
Please refer to the template at the link here for a letter of authorization. The letter needs to be printed on company letterhead and signed by the applicant.
STEP 7 - Select a Service Level
Commercial Documents (Documents regarding business, commerce, trade, etc. such as: Business license, Certificate of Good Standing, labor agreement, etc.).
Regular Processing (3-4 weeks) : US$280.00/per document
Express Processing (1-2 weeks) : US$355.00/per document
Remarks:
Processing time means the time Chinese Consulate needs to process your application and is based on business days. First day of receiving is not processing day. Weekend and holiday doesn't count.
Forms of Payment:
Personal check is not acceptable. You may pay by money order or credit card. Credit card payment is subject to 3.6% surcharge.
Return shipping fee listed is for return addresses within the continental U.S. If your return address is in Alaska, Hawaii, Puerto Rico or Canada, please include an extra extended delivery area fee of $20.00 per order. If you need to ship back to other international address, additional fee and time is needed, please call for detail.
STEP 8 - Complete Service Request Form
Click here for Service Request Form
Please specify your service level and return address by submitting the service request form online.
Please provide email address and phone so that confirmation and status update can be sent to you during the process.
Please include one copy of service request confirmation with the documents you ship to us and keep one copy for your record.
STEP 9 - Pre-check via Email
Please email us a scanned copy of the document and supporting paperwork for a pre-check:
The document with the Secretary of State authentication. You may fold page when making copies. Important: Do not remove/alter the staple/rivet when you make the copy/scan.
Application form signed in both section 8 and the section below
Copy of applicant's passport name/photo/signature page, complete page in true size, no cut off
Copy of Certificate of Good Standing of the company
The Authorization Letter
The Service Request Form Confirmation
STEP 10 - Send the Application Package to VisaRite Service
We will email you the detailed shipping instruction once the pre-check is completed.